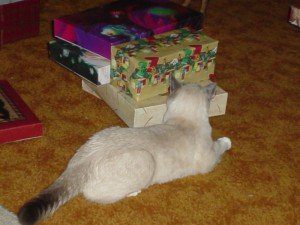 Santa doesn't just visit all the little boys and girls. He also visits their furry friends and hands out pet gifts!
I don't know how it happens, but every Christmas seems to come up on the horizon out of nowhere. Before you know it, it's already December and it's time to start the holiday shopping. This is a good time of year to splurge on your loved ones, including those who have fur! If you don't celebrate Christmas, these gifts ideas will work year round, so keep them tucked away for future reference.
Listed below are some of the top cat gifts and dog gifts to give your pet—and their furry friends—this year.
Bed: Pets like to snuggle up too! I know that my dogs wear out sleeping pads and pillows about once a year. Christmas is a great time to find flannel pads or pillows to keep your pet extra warm in the winter.
Chew Toys: These toys don't last forever, not to mention that they can get pretty gross over time.  Christmas is the perfect opportunity to give your pet a new chew toy, and help with their dental health! You can find chew toys at your local pet store to help maintain and clean your pet's teeth. These toys also work to prevent gum disease and tartar build-up.
Collar and Tags: This might be your chance to update your pet's look and emergency information! In the aftermath of Hurricane Sandy, we all learned that you can never be too prepared for an emergency. If your housing or contact information has changed at all, you may want to get your pet a new tag, along with a snazzy Christmas collar.
Scratching Post: Similar to the chew toys listed above, cats can overwork a scratching post. To keep your cat from scratching on your furniture, get it a new post. For some extra fun, you can find posts with toy attachments or a cat tower made out of scratching posts. Short of funds? Check the classifieds for cat trees or scratching posts that are slightly used.
These gifts are only the tip of the iceberg! For more ideas on what to give your pet this Christmas, check out your local pet store or ask your veterinarian. And share your ideas with us!
The post Pet Gifts appeared first on Pet Assure Blog.
Source: Blog